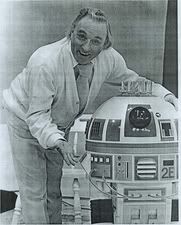 From
this Citytv site
comes the news that kids' tv host Uncle Bobby (aka Bobby Ash), who had a popular show in the 1970s has died at 82. Quite surprising, considering he appeared very old to his childish viewers. Uncle Booby was born in the UK and was one of those gleeful, earnest host that used to be very common on local tv: everyday he'd show a bunch of cartoons, interact with some puppets and stiff humans, and announce the birthdays of his viewers, to the accompaniment of a very annoying but unforgettable song (originally recorded by Jim Reeves?) called Bimbo the Birthday Clown. The show went through several name changes, and began on Hamilton's CHCH before winding up on CTV. The cause of death was heart attack.
CTV has the news video attached to its
website
--I would suggest those eager to preserve this kind of video info try to save the footage digitally.
I couldn't find any more footage online (mostly because CTV has removed its content from youtube) but here is some more info:
Show memories
Buffalo Tribute Site
Canadian site